An umeshu type premium liqueur which utilizes fresh Japanese Fuji apple puree instead of the ume plum, for a sweeter more refreshing sake.
This Ringo-Shu, has been made using the same processes as the famous umeshu produced by Umenoyado. This variant however, has replaced the ume plum with Japanese Fuji apples, giving the Sake a sweeter and more nectar-like aroma. The rich flavour and mellow textures make it ideal to be enjoyed by itself over ice, or as a cocktail.
APPLE LIQUOR 7%ACL (ARAGOSHI RINGO)
Alc: 7.3%
Size: 720mlML
すりおろしりんごと角切りりんごが踊る、ポップでスイートなリキュール。
国産のリンゴ果汁と果肉をたっぷり詰め込んだ、フルーツジュースのようなリキュールです。すりおろしりんごと角切りりんごの両方を贅沢に使用し、りんごの自然な甘みとみずみずしさを存分に引き出しました。おすすめの飲み方はロック。氷とりんごが溶け合い、よりまろやかな味わいがお楽しみいただけます。グラスの中で角切りの果肉が沈むため、かきまぜながら果肉も一緒にお召し上がりください。
(6LWVCRD2YQ)
Be The First To Review This Product!
Help other Thanks Mart users shop smarter by writing reviews for products you have purchased.
Others Also Bought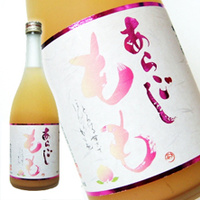 UMENOYADO Aragoshi PEACH LIQUOR あらごしもも酒 720ml
$52.47
More From This Category